The Sebring Swede
The resurrection of an old Sebring racer,
and return at the momentous Monterey Historic Races
Richard Allen Hayden, the Automotive Archeologist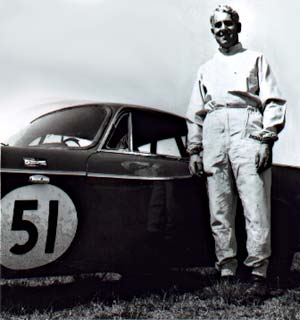 It was a particularly bad Sebring for Art Riley, that sweltering afternoon of March 27, 1965: Shortly after three in the afternoon, at a break in the torrential rains that saw tires boating down pit lane and Sprites passing Cobras on the straights, he found himself walking disconsolately from the pits to the fast sweeper that runs down to the hairpin, listening to his own obituary being solemnly broadcast over the PA by his good friend Art Peck from the announce booth. Peck, that quintessential, educating voice of East Coast roadracing to decades of student-spectators, had no way of knowing that it was not Riley's stint, but was in fact co-driver Nick Coné up when the horrendous accident happened.
The day started out prophetically for Art and the red Volvo P1800, bearing number 51 on her flanks, but #14 on her firewall; the fourteenth one built and the first production coupe brought into the country. After a stellar series of performances -- which saw a string of 30 races before the first DNF, a marvelous third place at the 1963 Sebring 12-hour behind the two factory Porsche Abarth Carreras in the under-2-liter GT class, and a miss of the 1963 SCCA class F-Production National Championship by not even a point but a placing -- this was going to be VIN #14's last Grand Prix of Endurance. At the mad scramble Le Mans start Ed Leslie, in what was to be retained as Carroll Shelby's personal Cobra Daytona Coupe, stalled in traffic after leaving his pit slot. Everybody got around him but Art Riley. "I was boxed in, and had nowhere to go " he said, and hit the Daytona in the rear quarter, leaving both cars crippled, but able to continue after some hasty body bashing.
Soldiering on through the monsoon rains, an honorable finish was not to be for "The Stoic Volvo P1800" as Chris Economaki called it in his pre-race coverage. At 3:05 p.m., Nick Coné had the ordinarily stout engine blow in a big way, oiling down the still-wet track in that very fast big bend down to The Hairpin before he pulled it off on the soggy verge at the 300-yard braking marker, and got out and got under to see what the problem was. Alec Ulmann, father of the Sebring event, in his book The Sebring Story compared this worst accident in the race's history to the Bentley debacle at Le Mans, as George Reed in his privateer Cobra roadster came arcing through the bend at well over The Ton, lost control in the watery, oily slime, and folded the Volvo in two with a terrific impact, cartwheeling both cars into instant scrap heaps, clipping Chuck Stoddard's Alfa GTZ in the process and adding a once-pretty red ball of aluminum to the carnage. Miraculously, all three drivers received only minor injuries. In our only meeting -- in 1992, just before cancer took him -- Nick responded to questions about the accident: "What was it like?! One minute I'm under the car looking for damage -- the car disappears before my eyes, and four hours later I wake up in the back of Dave Davis' [David E. Davis, Jr., a Car Guy of some note] blue Cadillac with his pretty girlfriend looking at me!" He was knocked cold by the impact, but was still wearing his helmet and didn't have a mark on him!
Art was relieved to find his best friend alive on reaching the accident site, but the sight of the car, which had been all but an extension of his considerable will and ability for almost three seasons of Regional, National and FIA International competition, took the wind out of him. "I was crushed by the wreck," he says. "I trailered it home and realized there was no saving it, so I took everything usable off it and some pieces went on the [replacement/backup] black car, and the rest went into boxes. I cut up the body for scrap; there was no joy in it for me."
Riley continued his assaults with the black P1800 unabated through the '60s, and were it not for the resources behind Bob Tullius' Group 44 Triumph effort and Bob Sharp's factory-funded Datsuns, he might have been National Champion. Regardless, all those who raced against him had the highest respect for his expert car preparation skills, fierce competitiveness and uncanny car control; the elite Road Racing Driver's Club inviting him to membership, one of the rare single-marque competitors to be so honored.
The black car was retired in the early '70s to Art's Garage in suburban Long Island to languish until bought sight-unseen in late 1991. As restoration details were discussed in transcontinental phone calls, Art casually mentioned that he had "some spares." A check was dispatched and the boxes started rolling in by cross-country freight -- it was like Christmas in springtime -- and dimly the realization began to glow "Art, this steering wheel, which looks like new old stock but on closer examination is maybe only a two- or three-year-old wheel; if I dusted it for fingerprints, would I find your co-driver Nick Coné's prints on it from Sebring '65?" "Sure," said Art. "All that stuff is from the red car."
We had VIN #14! Or what was left of it -- along with boxes of silverplate trophies and fistfuls of dash plaques from such long-gone venues as Vineland, Thompson, Meadowdale, Marlboro, Augusta, Connellsville, Nassau, Riverside, Bridgehampton and you-name-it. Even the 1963 Sebring trophy, one of the few in private hands, was among the tin! Jewels included parking light lenses and bezels with mummified anti-shatter masking tape still crustily clinging, and the driver's door handle with red paint overspray from the time the car was T-boned by a garbage truck in downtown Nassau during the '63 "Speed Weeks" and hastily resprayed after Art "had to crank out the B-pillar with the jack wedged between it and the roll bar." Unfolding one ball of ancient Long Island Newsday newsprint revealed the trunk latch with key wired in it, tagged "62 Red Race Car" in Art's unmistakable hand; oily race grime from the tailpipes of the entire '65 Sebring field still clung to the chrome latch -- provenential blowby, a never-to-be-removed preservative!
Mechanical bits included hand-lightened lifters and pushrods with rough grinding marks attesting to Art's no-nonsense approach to engine prep (but each weighing identically to its mates), the "D" camshaft, which was the prototype homologated factory race cam in the early '60s, later to see production use in the '70s fuel-injected cars, valves with purple paint-splashed factory race springs, and a set of massaged connecting rods "balanced by Dick Simonek over in Paterson, New Jersey." Art said -- surprisingly, for Jerseyans always thought that Dick Simonek, Roscoe "Pappy" Hough, Floyd Terbush ("Floyd's TNT Ignition," his business card said) and all the rest of the world-class racing minds and hands of Paterson's "Gasoline Alley" were their little secret.
Rarest of the race parts was the early homologated close-ratio gearbox fitted with the prototype remote gear change lever housing which the parts book identified as being fitted to #14 and only another handful of the first 50 cars.
"We have to make two Bills of Sale," I told Art; dutifully done and carefully notarized at the 1992 Lime Rock Vintage Festival, where Art and co-driver Billy Rutan were reunited in celebration of their 1957 "Little LeMans" win in Art's Volvo PV444. The red car's is entitled "Bill of Sale, Certification of Salvage and Authorization to Reconstruct." As icing on the cake, shortly thereafter the mail included a concise one-word note from Art: "Original" it said -- and wrapped in the notepaper was the battered chassis plate stamped "14!" "The broom found it under my workbench." was Art's simple explanation.
In the world of vintage aircraft, clear title, the firewall plate and a few original parts surrounded by accurate duplicates built to the original prints constitutes "The Real Thing." So it is with vintage racecars -- #14 would be "re-tubbed" -- but how to find a suitable body?
Fortunately, it is not a D-Type Jaguar or a Ferrari Testa Rossa; junkyard Volvo P1800s are cheap and plentiful. The first 6000 Volvo sports coupes were designated "P1800A" and built not in Sweden, but in England by Jensen Motors under contract, because Volvo just did not have the production capacity in Sweden, its PV544 and 122 Amazon sedans doing very well in world markets, thank you. This continued until early 1963, when Volvo terminated the contract for failure to correct deficiencies, and moved production to the homeland. Bodies during this time (and, indeed, even later) were produced for Jensen by Pressed Steel, Ltd. at their Scotland foundries. Pressed Steel was one of the world's pioneers in unitized construction, and a P1800 body-in-white was a joy to behold, with its flowing curves (only a few out of place) and leaded seams, having tremendous torsional stiffness, yet probably not weighing more than 500 lbs. sans hood, doors and deck lid. Just the thing for the solid over-the-road GT car Volvo envisioned -- or a racecar, for that matter.
The perfect fit came in the form of a first-year body in the original red color of *14* (that's how the chassis number was stamped into the body, within asterisks). Years from now, when this body is torn apart at its spotwelds for a facelift, it will give the same appearance as the original, down to the red oversprays in the nooks and crannies, and the rust. Rust was the main reason for Volvo terminating Jensen's build contract. Poor panel fit, mainly at the B-pillar beltline which was changed in the successor 1800S, and poor weather sealing -- particularly at the cabin air vent valves sunk (excellent word choice!) into the bottom of the cowl air-intake plenum. They would ship water in even moderate seas, resulting in rotted floorboards in short order. Even though the new body appeared to be from a California car, it needed floorboards and lower fender pieces at the wheel arches (the rear, double-walled lower wheelhouses -- a particular and chronic problem with the breed due to clogged drain holes in the inner skins).
This kind of restoration cannot be done without marque clubs; they are support at the most essential level. The best for the P1800 is Volvo Sports America, which puts out a bi-monthly color glossy magazine. There are chapters across the country, which do the normal sporty car things of road runs, social schmoozing and car shows. A strong racing contingent exists within the club, and technical information on how to beat Porsche 356s is readily shared in the common cause of educating the world on the abilities of these over-designed and underappreciated Swedish marvels. Body patch panels and repro rubber seals were secured from club director Duane Matejka's Foreign Autotech in Hatboro, PA. A new tail panel was required as well, there not being a P1800 out there that has not been rear-ended, due to its lowness and lack of a high-mounted brake light (and, of course, the idiots who would plow into the Queen Mary). Genuine Classic Parts is manufacturing many new parts from original Volvo tooling, available through your local Volvo dealer.
Not being a body-and-fender man, the tin-docking was subbed out to Geof Park. Geof has a day job as a church pastor, and his moonlighting hammer and paintwork shows the influence of God as well. Though Jesus raised Lazarus from the grave after four days, Geof (being only human) took 18 months to perform the resurrection. The Lord was pleased.
The favorite monthly of many club racers in the '60s was Sports Car Graphic magazine, under the competent editorship of the late, great John Christy. The staff was heavy in Cal Club SCCA types: Jerry Titus, Bill Shedenhelm and Christy all active competitors. Dave Friedman, Bob Tronolone and Jesse Alexander were regular photo contributors, and the philosophical focus was on the do-it-yourself sports car hot rodder and racer. In 1963 and '64, SCG did a four-part series entitled "Project Volvo." Penned by Christy and Bob Cumberford (Bob being well known for the hilarious text surrounding Stan Mott's ageless cartoons in the early "Cyclops" pieces in Road & Track, and currently on Automobile magazine's masthead), the series took Christy's personal white P1800A and made it, step-by-step, into a race car. Both Christy and Cumberford were personally acquainted with Art Riley in their previous lives as Right Coasters -- Christy penning a story on Riley's first Little Le Mans win in '57, and Cumberford seeking Art out to prepare for a cross country tow as he moved westward -- so it was natural that Art, the ranking store of Volvo go-fast knowledge in the country, be consulted for the series. The articles culminated in "Project Volvo at Sebring" in 1964, wherein the Christy white car, Riley's *14* and Art Tattersall's red coupes -- numbered 50, 51 and 49, respectively -- were entered by Volvo and were considered as a factory team, although really three quite independent efforts. Through mix-ups in rules interpretation, the FIA-affiliated Automobile Racing Club of Florida, the ARCF, as sanctioning body forced the three cars to run in the Prototype Category, where their fitted headers (and Weber carburetors, and a host of other goodies they did not bring) would be legal -- but the "team" would be no match for the factory Porsche 904s. This was moot, for Tattersall rolled under the MG bridge in the esses breaking his back, never again to race; Christy and Dave Jordan retired due to the camshaft boring a hole in the front cover due to hasty preparation, and Riley's car, after many lost laps due to a thrown fan blade and a broken spindle, crossed the line in the hands of Nick Coné in a shower of sparks, 4th in class but well down -- the second spindle having gone on the last lap.
Picking a point in time for a racecar restoration can be an agonizing task, but in the case of *14*, there could be no choice but Sebring, 1964. Graphically, the car looked just fabulous in Dave Friedman's captivating photographs. Dave was employed full time as Carroll Shelby's staff photographer, but shot more than just Cobras at the races when a car or a driving performance caught his gifted eyes.
In SCCA regional or national events, Art would often be a late entry and be assigned some awful three-digit number which he would slap on the side of the car at the event with masking tape... but at Sebring, crisp, black numbers on big, white number balls were the international FIA regulation, and Arthur dutifully complied. Being always mindful of the Herculean task of the timers and scorers (Judy Stropus, who wrote the book and later scored for Team Penske, was a fast friend), Art would often offset his numbers front and rear to the side of the scoring stand, skewing the numerals towards the scorer, and in the case of Sebring, even mount the flank number balls as far forward as possible to aid in quick recognition and give just that little bit of extra time for accurate recording. Goodyear supplied tires to Art early in the race as they noted his performance, and their sponsorship decal appeared on the car as the day progressed; fittingly because, after dusting off the old engineering instruments and scaling the old photographs of the car, it was found that the 5.50-15 Goodyear Blue Streak Sports Car Special tires of today most accurately replicate the look of their '60s namesakes. Champion likewise, supplied spark plugs to Art and the period decals -- replicated from an original in Art's personal collection -- emulated those used, although not in the Arabian text playfully supplied to '64 Sebring entrants as part of their then-current "international" ad campaign.
Mechanically, the Prototype Class provenance gave leeway to produce a restoration that could begin to keep up with the proliferation of "Vintage Hot Rods" polluting tracks in ever-increasing numbers, although Volvo failed to take full advantage of the rules and build on Art's '63 success by supplying aluminum hood, doors, deck lid, or Plexiglas quarter and backlights, as was the norm for those companies serious about showing well in international competition at the time. Class PT-10 had a 2-liter limit, which is what the original 1.8-L. motor was designed to be, and actually punched out to in prototypes and later production. Fortuitously, the Swedish suspension designers had done their homework and the unequal-length A-arm coil sprung front suspension is up to the racing role, as is the U.S.-built Spicer type 27 live third member located longitudinally by double trailing arms, and laterally by Panhard rod.
The history of broken spindles -- too often repeated by current racers -- demanded crack checking by wet Magnafluxing (dye penetrant inspection is OK in the field) and going the extra mile by having those spindles which passed inspection shot peened in the inner bearing radius to delay the onset of cracking. (Junkyard spindles, incidentally, demonstrate a 50% rejection rate). Likewise, the rear axle shafts have been responsible for too many balled-up Volvos over the years. Lifted from the semi-floating design used in early '50s Studebakers (the 9" drums fit, if and when you can find them), the drive is through a 1/4" square key on a tapered shaft. The key-seat milled into the axle shaft taper is a classic stress-raiser, and when the shaft snaps outboard of the bearing with the crack of a 155mm howitzer, you are in for some raised level of stress, for sure! Ever since going airborne at Elkhart Lake over Canada Corner practicing for the '78 June Sprints, it has been my personal practice to X-ray and Magnaflux shafts, and shot peen them and hand lap them to the hubs. Some sanctioning bodies allow replacement with the later disc-braked type 30 rear end with failure-free flanged outers, and for those that won't, John Parker of Syracuse, NY, has developed a slick adaptation of the early Ford Mustang drum brakes and flanged shafts to the Volvo housing, which can easily be sold to your tech inspectors if you survive the first failure of the tapered shafts.
In keeping with the philosophy of the Historic Motor Sports Association (HMSA), the car had to be, for all the world, like it was in 1964. One of the toughest nuts to crack in pursuing that aim was in the area of threaded fasteners. To be absolutely period-correct, a shipset of excellent early hardware had to be culled from the 25-year accumulation around the shop and painstakingly restored. It took a year. Each candidate had to be carefully cleaned, followed by eye-loupe inspection of the threadform. Any pitting or galling meant subjection to the dreaded "Flotation Test:" Find the nearest large body of water and throw the fastener in; if it floats, save it. (Thank you, Carroll Smith!) Being British-built, most of the hardware was sourced locally by Jensen in the SAE threadforms specified. Original Riley hardware was stamped in an unstressed area to keep track of provenential parts, and batch-processed by Aerodynamic Plating in Gardena, CA, an FAA-approved shop that turns out beautiful, bright cad that can scarcely be told from the original, including a Mil-Spec bakeout to preclude hydrogen embrittlement.
When the painted body came back from Geof Park, it was drop-dead gorgeous. There was no paint formula that worked with modern paints, and the original components were no longer available, so Geof had to match from the most unfaded section he could find -- a small round patch on the inside of the deck lid, hidden under a mercury-switched trunk light for over thirty years. His work was magnificent; the gently curved surfaces reflecting like mirrors, the heart-stopping red gleaming in the sun.
Hanging the suspension was the first order, and always takes longer than you figure. Not being a believer in over-restoration, Eastwood chassis black was used rather than the powder-coating seen on more and more of the clubs' restorations; the color match is perfect, and the imperfections that were there originally remain. One complete corner was built up from wreck remains and Art Riley Motors NOS bits, including an upper ball joint originally stamped "14" and a lower wishbone with red paint overspray, carefully preserved. IPD of Portland, OR, long a supplier of Volvo performance bits and suspension upgrades, provided a copy of the original optional anti-roll bar (they have kits for tow cars, SUVs and RVs as well); original Koni "D" tubular dampers supplied by David Hueppchen's OJ Rallye in Wisconsin are fitted front and rear, just as Art used in the car's heyday, and Tom Swartz went through the 1961-dated ZF worm-and-roller steering box. Peter Alper, who met Art as a youngster growing up in Great Neck, NY, and went on to become Volvo's West Coast marketing director, supplied refurbished front brake components to the original specification through his Import Servicenter in Torrance. The rear axle was bent double in the crash and did not survive, so an excellent first-year third member, notable by its small-diameter tubes and skimpier backing plates, was built up, with Hooper's of Sun Valley, CA, doing the critical backlash number with the stock 4.56 ring and pinion, and assuring that the Spicer-Thornton "Powr-Lok" positraction had been assembled correctly. The posi was among those items fortuitously homologated by Volvo with the FIA in 1963 for the P1800A, and our unit had a 1964 build date stamped into the housing, keeping us on track and period-correct.
Onwards to part 2
Photos courtesy of Rick Hayden
Back to the Top