Where's my old 544?
I am trying to track down my old Volvo 544. The car was last known in the Harrisburg, PA area. It is a 1963 and is chassis # 373528. Car was last known in bright yellow paint with a black interior. Instruments had been changed to round gauges. Car had a porcelainized exhaust manifold and Weber DCOE carbs. Any leads would be appreciated.
Bob Tescione
Rochester NY
mogman@rpa.net

---
More Amazon Resurrection
I have been following your article on the 122S with great interest. I, too, have a 1964 122S, original owner was my father. I now have the car and it has been in storage for over 10 years. Needs all of the usual mechanical work done. Bought an old P1800 for some parts and have decided to keep that one too, although there is the usual rust issues with it.

Nice to see that someone has lovingly restored an old gal.

Regards,
Chris Humberson, Seattle
P1800kid@aol.com
---
Volvo Paintings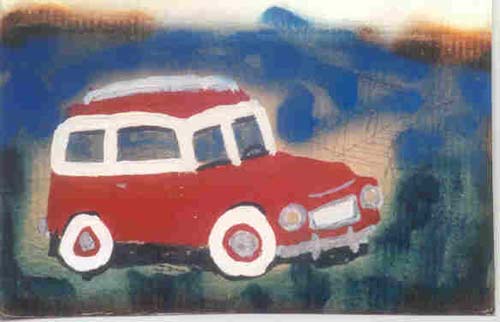 This is the first of a series of paintings of old Volvos I plan to do. Thanks for the new issue, it's great and I've only started to look through it.
David Spieler
DSpielvol@aol.com
---
75th Anniversary
I took this picture when entering the car to the largest Volvo dealership in Sweden for the 75th anniversary celebration last weekend. We had two PV544s, three PV444s (one of them chassis #63, one of the oldest left) and my PV445.
You can find more pics on the PV-klubben website at www.pv-klubben.org.
Best regards,
Dan Jansson
dan.jansson@ebrevet.nu
---
Amazon Resurrection
I liked your reportage on the resurrection of the 122. It reminded me of those British classic cars magazines where those nuts spend amazing amounts of money and time in stitching together an old Midget, or some such. Cars we wouldn't give a second glance towards, spoiled as we are. Yours is an emotional decision, and fully justified, in my humble opinion. Sort of like spending thousands of dollars on vet bills for a beloved old dog!

Any interest in a mini article on my TYP 21 Sugga (the 4X4 Command car)? I finally got it to the point where I trust it for longer drives, even though it does handle like a shopping cart!
Richard in San Diego
rsp3@znet.com

Richard, we'd be delighted to hear more about your Sugga.
---
Pilot Bearing Tip
Having read your tech tip on using wadded up wet tissue paper to remove a pilot bearing, I thought I would try it when I needed to remove one from my 244 over the new year. Well, I was very disappointed when it didn't work. When I did get the pilot bearing out I found out why it had failed for me. As the temperature outside (I have no garage) was below freezing, the wet paper had frozen into a solid block!

Oh well, maybe next time.
Andrew
andrew.goodbody@insignia.com
---
New Race Track
Just a note to say that there is a new road track in the prairie! Mid America Motorplex is located just south of Council Bluffs, IA on I-29 at a little town called Pacific Junction.

I haven't been there yet, but will get over there in March when they start having activities. They are trying to promote club activities.

Chuck Petterson, Omaha, NE
capette@inebraska.com
---
Literate
I have to commend you for putting together one of the most literate web sites I've found. The writing is very professional. As an editor here at the Philadelphia Inquirer I'm particularly sensitive to that sort of thing. I look forward to every issue.
Chris Kupferer
ckupferer@phillynews.com
---